Cartessa Real Estate Company
Led by founder and owner Bill Chalmers, Cartessa Real Estate Company specializes in the redevelopment of buildings for adaptive reuse. Bill recently completed a 30,000 sq ft building renovation and addition of a former chapel for a regional provider of elder care services and also converted a former dormitory, located on the same site, into a 26-unit, 50-bed specialized-use apartment building. Prior to that, he completed the comprehensive redevelopment of the 33,000 square foot office complex now named "North Greenfield Office Park".  Ascension Healthcare, operating as Eastwood Recovery Center, occupies one entire building and the remaining buildings are 100% occupied by executive office users.
Prior to his healthcare work, Bill owned and developed 20 corners and outlots for national retailers like Walgreens, Starbucks, and AmSouth Bank (Amsouth was subsequently acquired and converted to Regions Bank). These developments were in Michigan and Florida and 15 were former gasoline service stations.
---
Altruis Real Estate Fund Donates $4,000 to Collegiate Recovery Program
The U-M Collegiate Recovery Program (CRP) has received a $4,000 donation from the Altruis Real Estate Fund. Altruis owners Bill Chalmers and Eric Siegel are U-M alumni know that recovery works and … read more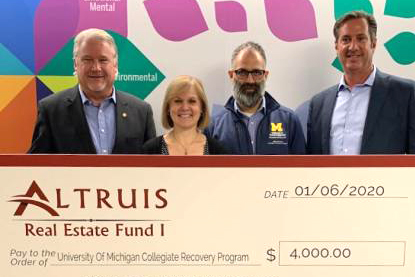 ---
Proud Supporter of these Exceptional Organizations